The Navarrese company Aceites Sandúa has managed to ensure that the entire production of its latest harvest, completed last October at its olive grove estate, Capricho Navarro, is now organic.
After twelve years cultivating olive trees in the south of the Comunidad Foral, in lands near the municipality of Ablitas, where the company is located, Sandúa now complies with all the parameters required by the European Union's organic production regulations.
As a result, all the olives harvested in the harvest carried out last October now hold the title of organic crop.
Sandúa's olive grove estate, 'Capricho Navarro', enjoys a strategic location, next to the Lor lagoon, one of the most important wetlands in Navarre.
José Luis Sandúa, the company's Production and Purchasing Director and son of the founders, is responsible for the good progress of the estate. "We are in a privileged area for olive oil production. The environmental and soil conditions give rise to high quality oil. This was already known and practised more than 2,000 years ago, when the Phoenicians began to produce in this area. An activity that would continue with the Romans and Arabs, "in fact, on one of our estates there is a Roman settlement and a Roman road also passes through it", comments José Luis Sandúa.
The Navarrese company, which has been in business for more than 45 years, since it was founded in 1975, harvests early, starting and finishing in October. The reason for this is quality. Early harvest oils have more organoleptic properties and qualities, flavour, colour and aroma, as they contain a higher level of chlorophylls and polyphenols", explains the company's production manager. And he continues, 'Although it is clear that early harvesting entails some reduction in the olive's yield and more kilos are needed to produce the same amount of oil, it is nevertheless worth it, because of the flavour and quality obtained. At Sandua we have always been committed to these qualities".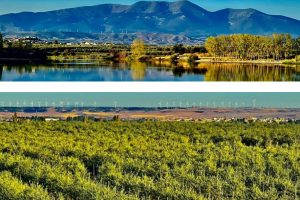 In its olive groves, Sandúa harvests arbequina, empeltre and arróniz olives, a variety native to Navarre. With these olives, Sandúa makes its most select oils, such as Capricho by Sandúa Arbequina Ecológico, and other premium category multi-varietal oils.
In this way, the Navarrese company manages to control the entire extra virgin olive oil production process from start to finish and to continue a tradition that dates back more than 2,000 years in the south of our region.