Harvesting days in our Capricho Navarro olive grove estate, where we select the best arbequina, empeltre and arroniz olives to obtain premium single-varietal and multi-varietal oils.
The best time of the year for Sandúa comes in mid-october, when we harvest the olives from our olive trees to obtain, hours later, the best extra virgin olive oil of the season. Early harvest oil that stand out for their flavour and aroma.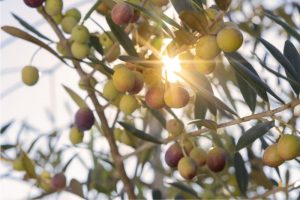 These are the most intense oil due to the qualities that the olives have at the beginning of the harvest, with the chlorophyll still in the fruit, giving rise to a juice of an intense green colour, whose aroma is reminiscent of green leaves, tomato plants and grass.
Because of their flavour, these oils are ideal to be enjoyed raw, in salads, with toast and also to enhance the flavour of meat and fish.
In addition, in a short period of time, our entire harvest will be organic. In this way, we will increase our offer of organic extra virgin olive oil to satisfy the demand for this kind of product. This demand is growing more and more, both in Spain and abroad.
So, if you like extra virgin olive oil, you will enjoy any of our premium varieties, Capricho by Sandúa Arbequina Eco; Cosecha Seleccionada Sandúa Premiu; Capricho Arbequina and Capricho Empeltre; as well as Gran Selección Sandúa.